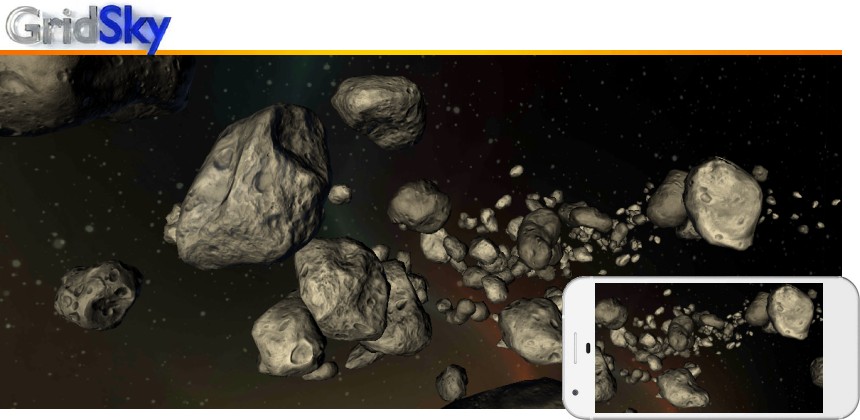 Cryaxion™
The year is 2051. Multiple large corporations are engaged in mining operations in the Belt. The need for good pilots and new ships is high. Cryaxion Corporation develops experimental new ships designed for the Belt and train pilots for their ships. Having signed up for the pilot training program at Cryaxion, you are now stationed there until you reach the advanced pilot ranks. You are advised to achieve as well as you can; your future will depend on it.

Get pilot training on next gen spaceships:
- Scout - A basic spaceship for short-range asteroid field exploration.
- Recon - An advanced spaceship for stealthy reconnaissance.
- Shuttle - A medium-range transport and cargo spaceship.
- Interceptor - A long-range tactical and stealthy spaceship.

Trek between space stations:
- Alpha Station - Small transit station for repair and maintenance.
- Bravo Station - Medium mining operations hub and refinery.
- Gamma Station - Large command station for habitats and trade.
- Delta Station - Small outpost for specialized mining operations.

The game modes are:
- Career - Engage in missions to enhance your career.
- Trek - Engage in asteroid field space travel.
- Timed - Engage in timed short-missions.

You start in the main asteroid field. This is an artificially created asteroid field where asteroids have been tractored to form a planar field around the Alpha, Bravo, Gamma and Delta space stations for easier mining, trading and colonization. The Asteroid Belt is huge. Forming artificial fields with a high density of asteroids was a practical political decision in the year 2047 to enable colonization of the Belt. There are several artificial asteroid fields in the Belt. The main field and the ring field have been designated training zones where Ensign-level pilots may practice. The ring field is a smaller asteroid field that is suitable for high-speed training. In the center of the ring field is the blue Ring Station, which is a command station for research, training and habitats.

You can optionally also use the Virtual Reality (VR) Mode to use the game with Google Cardboard or Google Daydream.

Engage in hours of sci-fi adventure experiences with 50 challenging missions, trading at space stations, running cargo and trekking the belt.

Press Kit provides additional information for press and media. Special thanks to Robson Cozendey - www.cozendey.com - for producing the music for the game.

Copyright (C) GridSky Software AS 2023. All Rights Reserved. GridSky and Cryaxion are trademarks of GridSky Software AS. Mail to: Paul Skolemesters veg 10C, N-7081 Sjetnemarka, Norway.